TOCA CRM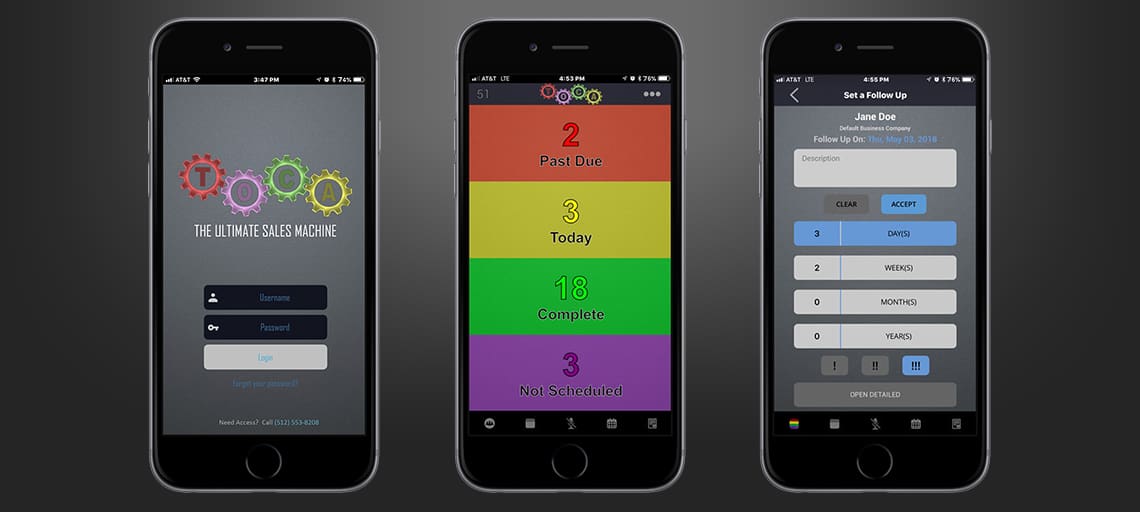 Description
TOCA is designed so the basic functions of a CRM can be performed in a fraction of the time of the leading CRM (customer relationship management) programs.
Solution
TOCA has the ability to track and generate leads in order to help teams improve their customer relationship management. TOCA comprises the most important features you will find on competing CRM apps, all inside one app.
Voice commands
Send emails
Schedule to-do's and follow-ups
Categorize importance
All-in-one App
Results
With TOCA you can categories leads, add notes, send emails with attachments, schedule events, follow-ups, and importance. You can schedule to-do's, ad your notes and view the history. For more information you can visit: https://www.tocacrm.com or email to: info@tocacrm.com
Prom App
Morp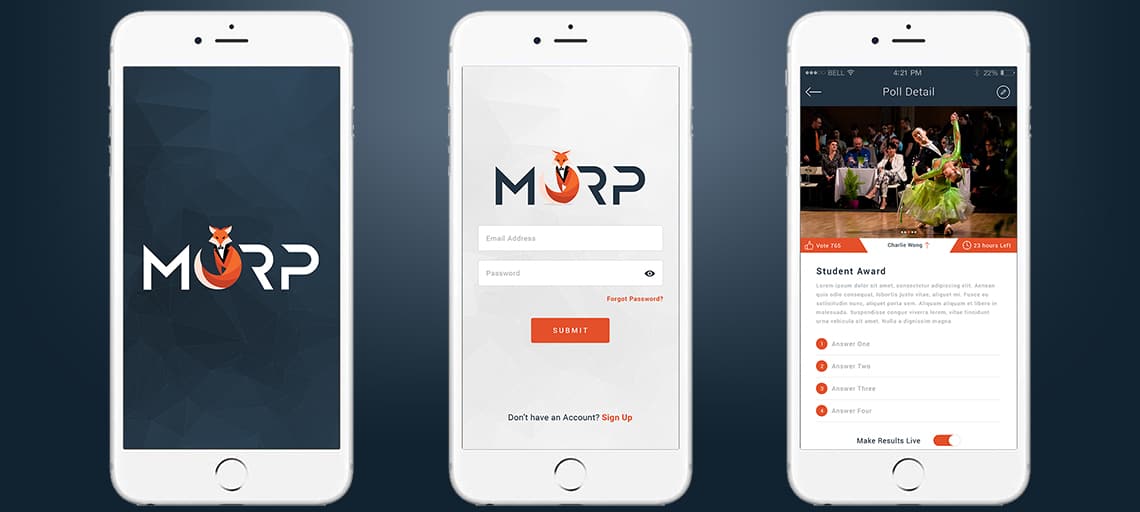 Description
Organizing a Prom party for schools can be tedious and time-consuming. Administrators and teachers have to sell tickets, raise money, organize voting, budget the whole event on top of their regular duties on school. The prom app Morp, can help schools simplify the organization of Prom for their students.
Solution
The prom app Morp, can help schools organize and simplify organizing Prom. It helps sell tickets, vote, raise money, check students into Prom and, budget the whole event.
Features:
Voting
Messaging
Notifications
Reports
Raise money
Check-in
Store
Budget Tool
Prom Request (ask a student to the prom)
Results
Teachers can create polls and see results live as votes come in. They can manage the prom's list, message students just like the student can message the teacher. Teachers can send mass notifications for important information and can create all financial reports with the tap of a button.
Call Alert App
Call Alert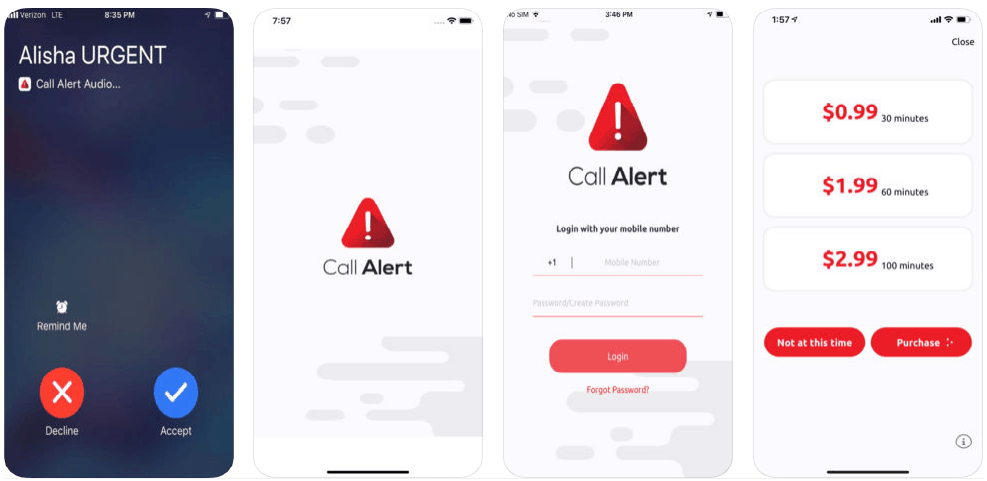 Description
Never miss an urgent phone call again with Call Alert!
Think about all the times you really needed someone to answer their phone when you called them, but they were busy, and that person said "Oh, I'll call them when I'm done with this in 10 minutes." What if you didn't have 10 minutes though? What if it was urgent you speak to that person right away?
This app can help those in need, especially those who:
Are suicidal
Struggle with addiction
Are very busy and never answer their phone
May need urgent assistance
Solution
We have all experienced the issue this app will resolve in some sense, some more extreme than others, but needless to say we have all experienced it.
What if you're at the hospital with a loved one and they suddenly need to go into surgery and you need to reach another family member so they can say they love them one last time? What if you have a friend that is suicidal and they try reaching out to you because they need you to talk them out of it? Are you someones life coach helping them with an addiction? Imagine how effective this app can be in those situations.
Call Alert allows you to:
 Receive special identifiable urgent calls
 Make special identifiable urgent calls
 Select who can call you urgent
Results
By installing Call Alert, not only are you giving yourself the luxury of knowing your urgent calls will be noticed, but you are also allowing yourself to be there for someone when they need you. This app may not save every life, or prevent every tragedy from happening, but it is a tool that even if it saves 1 life, was worth its creation.
Friedrich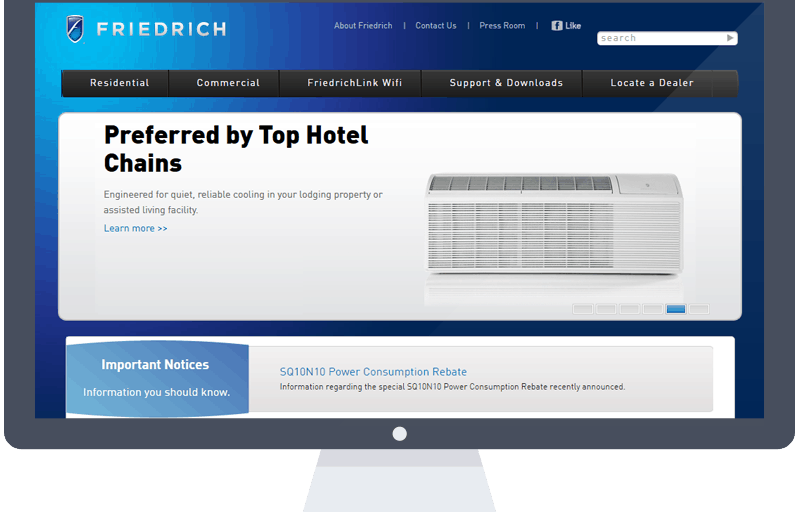 Description
Friedrich Air Conditioning was looking for a way to provide their customers the ability to control their AC units remotely.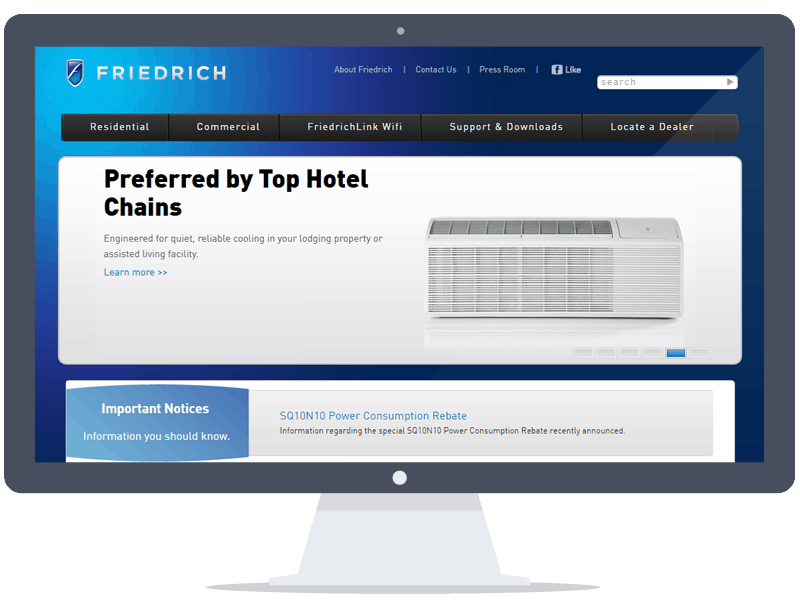 Solution
VND and Friedrich's engineering department cooperated extensively over the course of three years to provide a solution with several custom features:
iOS and Android apps to control your AC on the go
Energy management programs to minimize your carbon footprint and energy bills
Custom scheduling options to fit your weekly routine as well as custom groups to manage multiple units at once.
A set of cross platform desktop tools designed to update firmware on the AC units.
Custom integration with a proprietary binary based command protocol.
Results
Friedrich's new program, FriedrichLink, met all of the company's initial goals and went on to add many more features over the years. Today their website averages over 67,000 visitors a month, and their Kuhl Series is now one of their most successful lines of air conditioners to date.
Re-turnz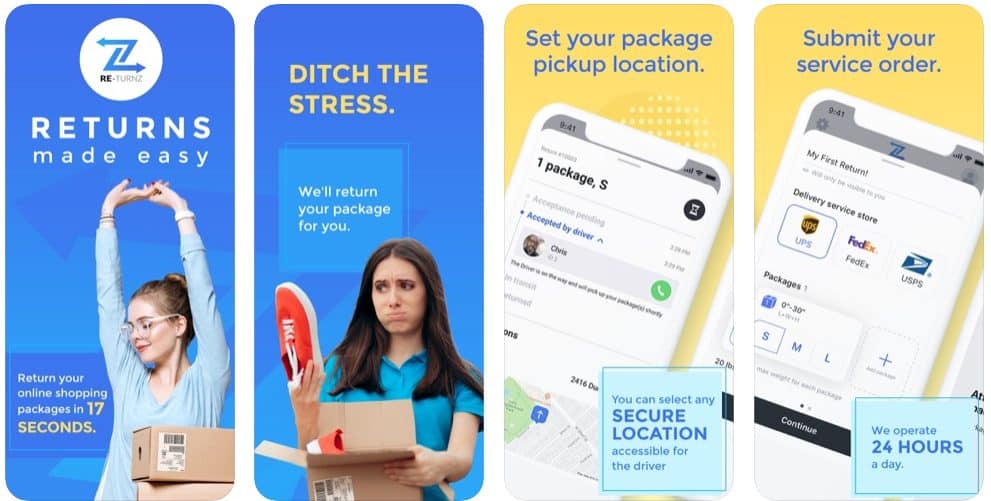 Description
Returning unwanted online purchases is a frustrating hassle. Re-turnz solves this problem by returning packages for you. On Demand!
No one needs to be present for us to PICK UP your packages
Orders placed before 2 pm are delivered the same day.
Orders placed after 2 pm will be completed the same day or within 1 business day.
Our service operates 24 hours a day, 7 days a week.
Orders are easily placed in less than 17 seconds!
We utilize a network of independent, insured, background-checked drivers that work on-demand to deliver your packages to the postal store.
Set GPS location for pickup at a secure location of your choosing.
You receive Re-turnz tracking information as your package is delivered to the postal store.
You receive a picture of your order when our driver picks up and another picture of the return receipt when your order is delivered to the postal store.
We return packages destined for UPS, USPS, and Fedex to their respective postal stores. The first return is FREE for new downloaders!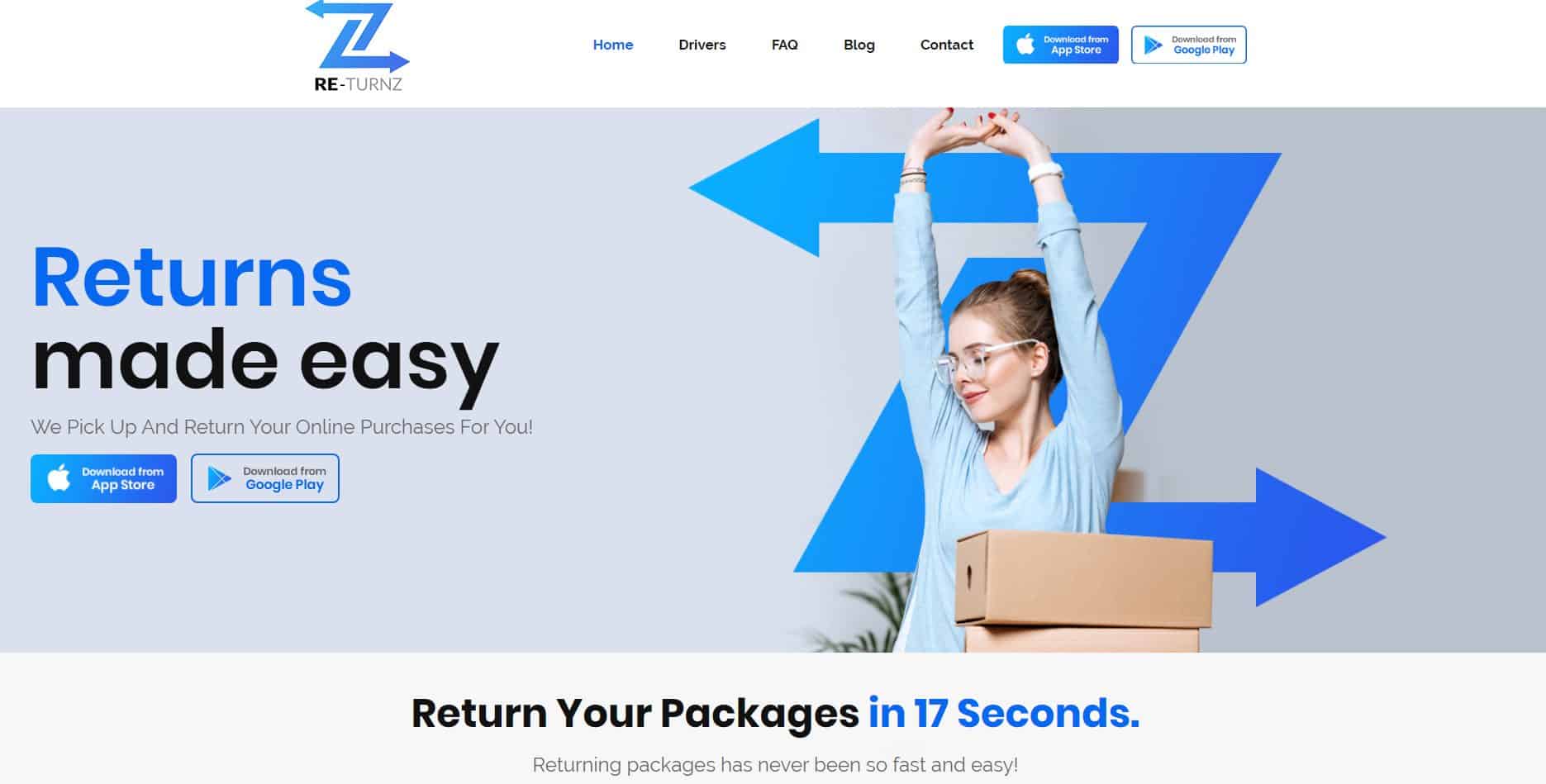 Solution
Everyone has purchased something online that didn't work out. Returning these unwanted items is an annoying hassle – long drives in traffic, long lines at postal stores, wasted time, and needless frustration.
¿Tienes paquetes que necesitas ejecutar en la tienda postal? Permítanos devolver sus paquetes no deseados a la tienda postal de manera fácil y rápida con la nueva aplicación Re-turnz. Rastree su pedido de devolución en tiempo real.
Re-turnz offer you:
RETURNS MADE EASY

SIMPLE ORDERING

REAL-TIME ORDER TRACKING

SAME DAY DELIVERY

SERVICE TO ALL MAJOR CARRIERS
Results
New easy-to-use login with Text Verification
First Return FREE for new downloaders
Flat rates for any size – Small, Medium, and Large
Available in new cities in U.S.
Performance Improvement
Bug fixes
C.L.E.A.R App
C.L.E.A.R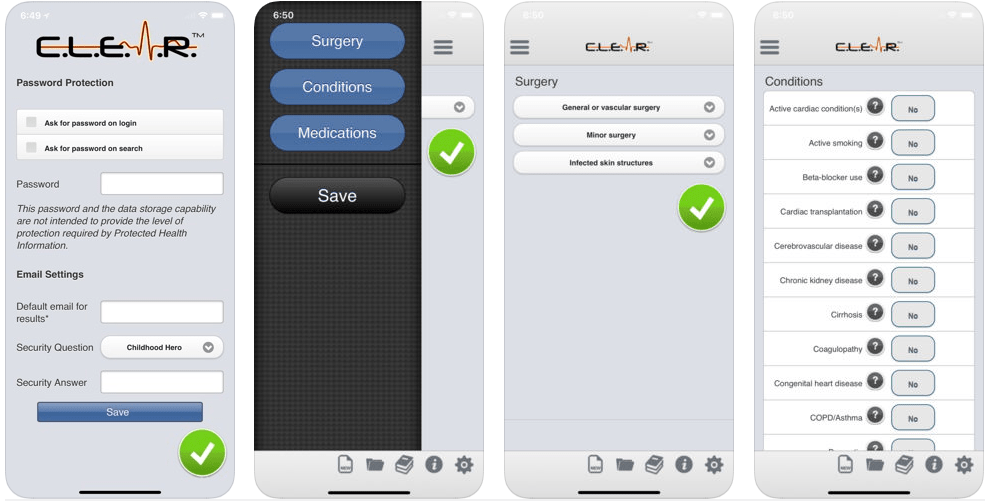 Description
Perioperative questions? C.L.E.A.R. has the answers. This Comprehensive Library of Evidence-based Articles and References allows you to effortlessly sort, save, and share cutting-edge preoperative best practices and guidelines for 27 types of common surgical procedures (e.g. orthopedic, general, vascular, urologic, ENT, and neurosurgery among others). It applies 21 pertinent risk factors and leverages a database of over 1,100 medication entries. Check out C.L.E.A.R. today and see why "Preoperative art is science made C.L.E.A.R."!
Solution
C.L.E.A.R. is intended to be used by licensed independent practitioners only to facilitate the maintenance of general health and wellness in the perioperative period. It is not intended to diagnose, cure, mitigate, treat, or prevent any specific disease or condition, and its use is not a substitute for clinical judgment and proper handling of Protected Health Information.
DREAMer's Roadmap App
DREAMer's Roadmap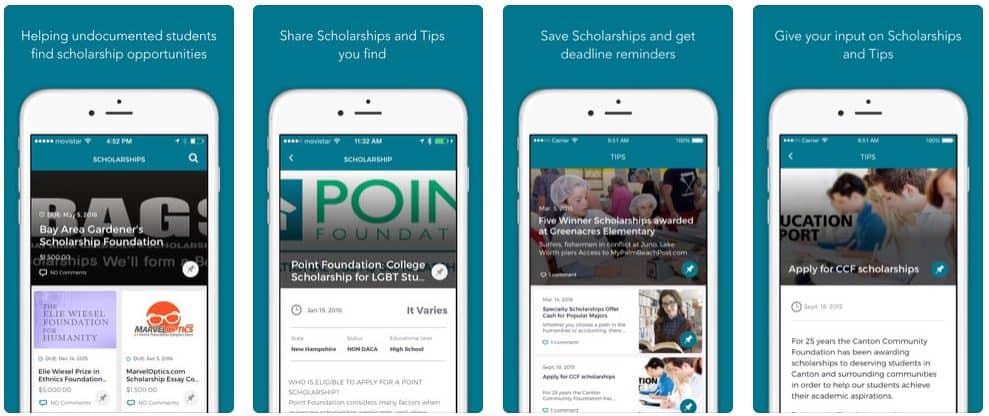 Description
DREAMer's Roadmap is a mobile app designed to help DREAMer's -undocumented students- find and track scholarship opportunities available for them across the nation. The app will also work as a crowd sourcing platform where anyone can suggest a scholarship they know about that are not on our data base. DREAMers Roadmap will also be a great resource for educators, making it easy to share our information via email and social media with their students.
Solution
Only 2/10 undocumented students are in school.  Undocumented youth are almost four times more likely to not complete high school. Nearly ⅓ of undocumented youth, as opposed to nearly ⅔ of other youth, have some college education. Many do not know that they can pursue higher education: whether that is from lack of resources to be ready for the application process, disempowerment and discrimination in their schooling experience, or simply because they do not see themselves excelling in that area and decide to take front-line jobs to sustain themselves and/or their families.  Our tool will equip DREAMers to realize their full potential and path to college.
Comet Tech App
Comet Tech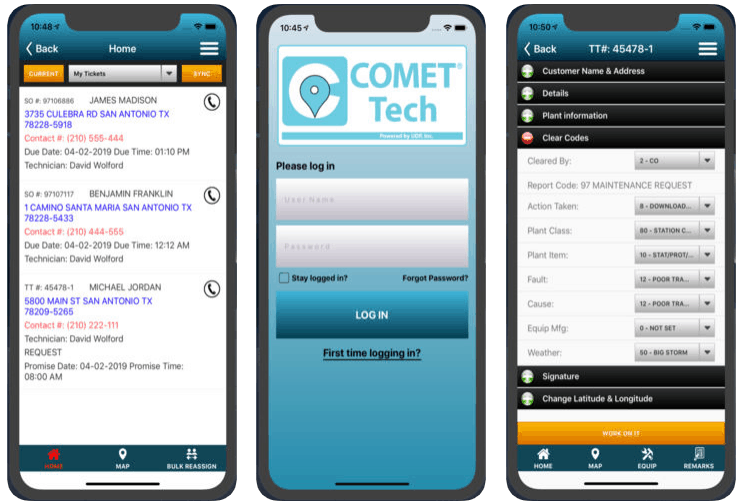 Description
COMET Tech mobile app improves your Customer Experience by giving your install and repair team access to critical information about a subscriber's service. Pertinent data is seamlessly shared across UDP's B/OSS solutions.
Solution
Your techs in the field can conveniently work service orders and trouble tickets from their mobile device. COMET Tech displays subscriber contact information, equipment and assignment data, appointment times, account remarks and more. Geocoded service location data is easily captured and saved to the subscriber's account.
Updated account information and remarks entered by your techs is synced with UDP's B/OSS applications on the go. COMET Tech manager screens allow you to balance workloads as the need arises, with updated status information and the ability to easily reassign orders and tickets.
Intocable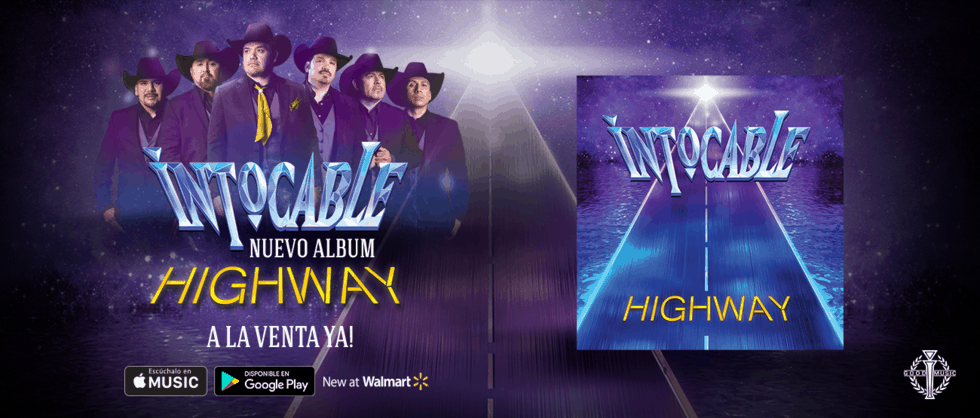 Description
Grupo Intocable, one of North America's favorite Tejano bands, needed a site and app to provide up-to-date information about upcoming events, shows, and other promotions.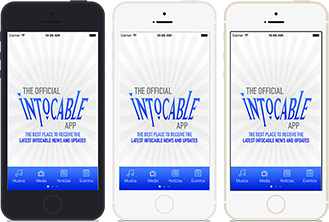 Solution
VND built a custom website, enabled REST based web services and built native apps for iOS and Android which connected to live data on a dedicated web server. VND was able to train the Intocable staff on how to publish new information via WordPress and push notifications out to users who downloaded the apps.
Results
A robust website featuring an online store, a huge media gallery, and even a push notification system, all optimized for use on mobile devices.
DateMarq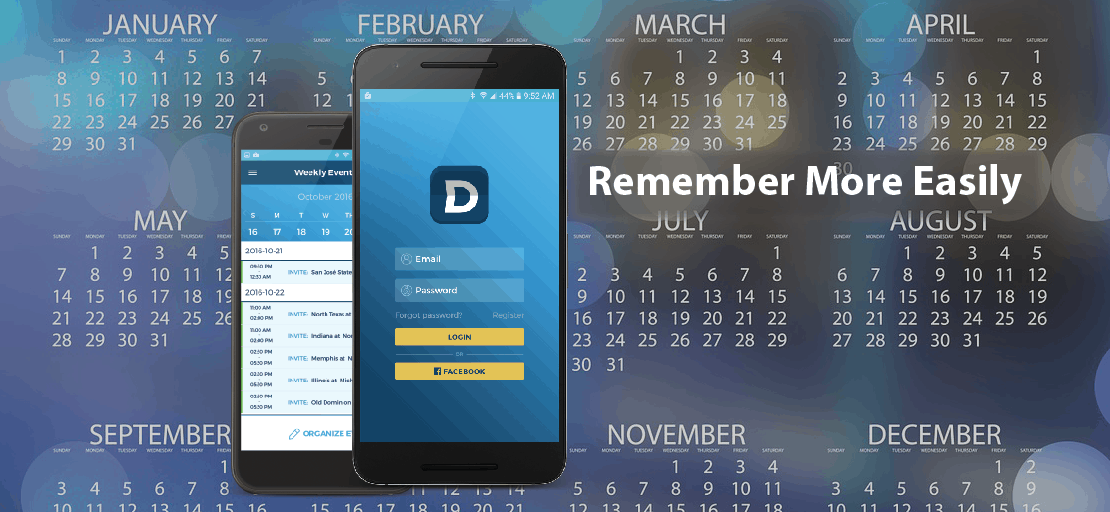 Description
DateMarq is a personalized event discovery application. Other calendars could work well for events, schedules and deadlines that you KNOW about. DateMarq is different because it will send you invites for events, schedules and deadlines that could be important and/or entertaining, BUT are unknown/forgotten.
VND worked with DateMarq to get their app of the ground!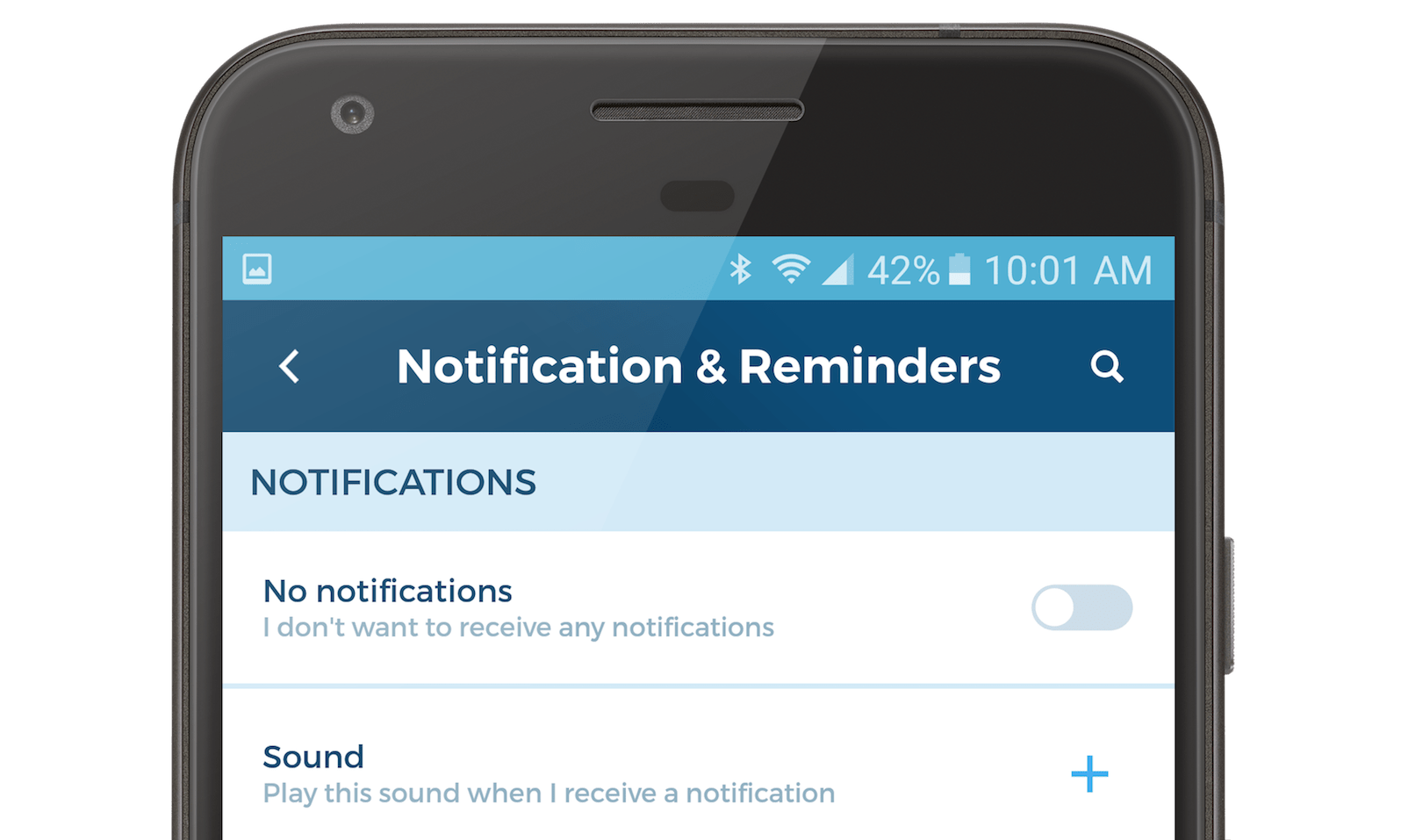 Solution
DateMarq required an app with the features of an outstanding time management system, but also with some more unique elements:
Suggested events lists and event creation
Automatic invites to new events that you care about
Membership portal
Results
Available on Android devices, DateMarq has a 5-Star rating on Google Play.