Re-turnz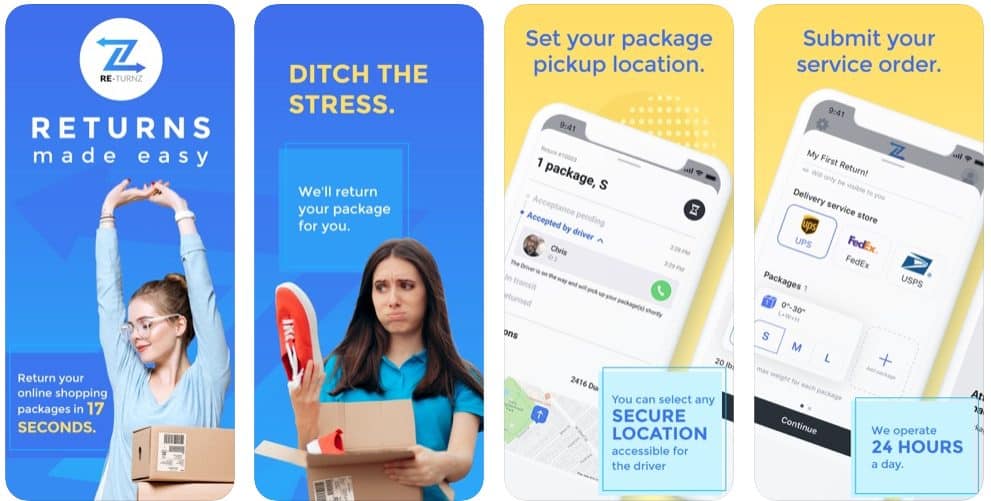 Description
Returning unwanted online purchases is a frustrating hassle. Re-turnz solves this problem by returning packages for you. On Demand!
No one needs to be present for us to PICK UP your packages
Orders placed before 2 pm are delivered the same day.
Orders placed after 2 pm will be completed the same day or within 1 business day.
Our service operates 24 hours a day, 7 days a week.
Orders are easily placed in less than 17 seconds!
We utilize a network of independent, insured, background-checked drivers that work on-demand to deliver your packages to the postal store.
Set GPS location for pickup at a secure location of your choosing.
You receive Re-turnz tracking information as your package is delivered to the postal store.
You receive a picture of your order when our driver picks up and another picture of the return receipt when your order is delivered to the postal store.
We return packages destined for UPS, USPS, and Fedex to their respective postal stores. The first return is FREE for new downloaders!
Solution
Everyone has purchased something online that didn't work out. Returning these unwanted items is an annoying hassle – long drives in traffic, long lines at postal stores, wasted time, and needless frustration.
¿Tienes paquetes que necesitas ejecutar en la tienda postal? Permítanos devolver sus paquetes no deseados a la tienda postal de manera fácil y rápida con la nueva aplicación Re-turnz. Rastree su pedido de devolución en tiempo real.
RETURNS MADE EASY

SIMPLE ORDERING

REAL-TIME ORDER TRACKING

SAME DAY DELIVERY

SERVICE TO ALL MAJOR CARRIERS
Results
New easy-to-use login with Text Verification
First Return FREE for new downloaders
Flat rates for any size – Small, Medium, and Large
Available in new cities in U.S.
Performance Improvement
Bug fixes