VND talks about Server Hosting with the San Antonio Business Journal
VND Co-Founders Manuel and Javier Oblitas were talking about our "server hosting" operations with the San Antonio Business Journal this past week. VND currently hosts servers for clients such as Texas State University, Vantage Bank, Keller Williams and Friedrich Air Conditioning, to name a few. Most recently, www.natividad.com migrated their intranet and public web servers to the VND data center. Natividad Medical Center is a large medical facility located south of San Francisco, CA. VND's plan to isolate server hosting operations is getting noticed and we are excited about the changes to come. Read the entire article below: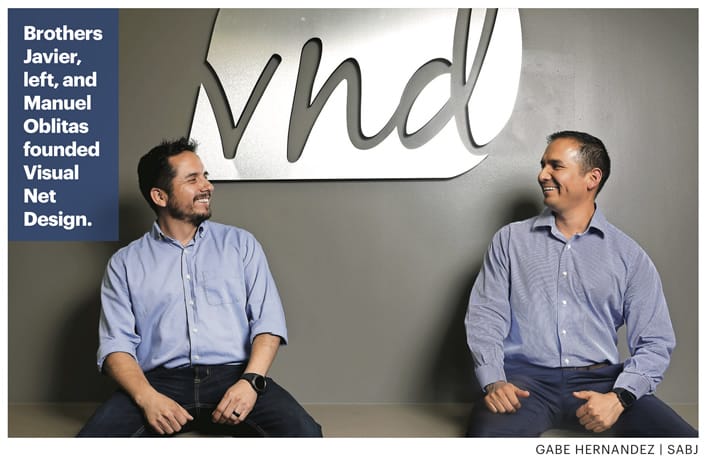 After more than a decade selling slices of computer servers to businesses, San Antonio-based Visual Net Design LC (VND) plans to spin out its cloud hosting arm this year, executives told the Business Journal.
Cloud hosting was initially a side business for Visual Net Design as web development was in high demand. Now, demand for cloud hosting is outpacing demand for web development. So Peruvian brothers and co-founders Javier and Manuel Oblitas decided to split the companies to capitalize on the market opportunity. The company plans to sell cloud hosting worldwide and expects to enter Latin America for the first time soon. It already has customers in Europe. The brothers have seen customer revenue for cloud services grow 20 percent year-over-year.
Javier Oblitas is expected to run the new company, which has yet to be named, as he's been overseeing its data center operations for years. Meanwhile, Manuel Oblitas would be responsible for the web development business, which has been growing as well — at roughly 5 percent.
"We've already been doing everything on a smaller scale," Javier Oblitas said.
Some of the company's customers want co-location services, while others want dedicated private cloud hosting. Visual Net Design has a deal with Level 3 Communications, which was bought by CenturyLink Inc. in 2017, to use the tele- communication company's data centers to host its own servers.
"We're looking at a lot of options to take to the next level," Manuel Oblitas said. "We'll be able to host anywhere in the world."
The pair has bootstrapped the company since its founding in 2002 and is now considering private investors to finance the new venture. Over the years, Visual Net Design has differentiated itself as an information technology services company. It has software developers who can build application program interfaces for mobile apps and integrate back-end computer systems with websites.
"We just finished doing the front-end and back-end [web development] for a big hospital, and now their servers are hosted in our network," Manuel Oblitas said.
The company, which has 20 employees, most of whom are in San Antonio, doesn't expect to need a lot more workers for its new venture since it plans to leverage developer operations and streamline the hosting process.
Source: https://www.bizjournals.com/sanantonio/news/2018/06/26/exclusive-sa-tech-services-company-spinning-out.html
---
Looking to consult with VND about your next technology project? Whether is software development, app development or server hosting, we'd love to talk to you. Contact us to book an consultation now!