Vote for Visual Net Design in the Social Madness Challenge!

The Social Madness Challenge  kicks off today, June 3rd. Follow the steps below to VOTE for Visual Net Design! Remember, we are playing to win our favorite non-profit organization, Gridiron Heroes , $10,000. We need all the support we can get!
How to vote for Visual Net Design:
1. Simply click on the button below to vote.
2. Once you are on the Social Madness website, click the green checkmark next to Visual Net Design to vote. You can vote once per day!


How you can help through social media:
(Doing any of the four steps below will help us in the competition! Feel free to do as many as you please!)
1. Interact with us on Facebook, Twitter, LinkedIn and Google+. Engaging with us through our social media platforms will overall help us in the competition.
2. Share our Social Madness graphics on Facebook. We want to spread the word about Gridiron Heroes as much as possible! Look for graphics similar to the one below and share with your friends.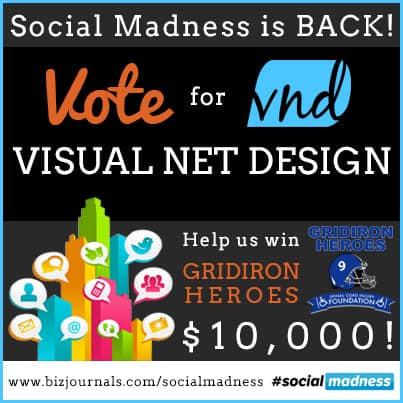 3. Retweet us on Twitter.
4. Share our updates on LinkedIn and/or Google+.
Thank you for all the support! Help us spread the word about Gridiron Heroes. Let's win $10,000 for their organization!
To view our previous blog post about Social Madness and background information on Gridiron Heroes, click  HERE.
Like, follow and connect with us!
Gridiron Heroes  |  VND Facebook | VND Twitter | VND LinkedIn | VND Google+ |  Click here for more information on  Social Madness.