The Importance of an Online Presence for your Business & Yourself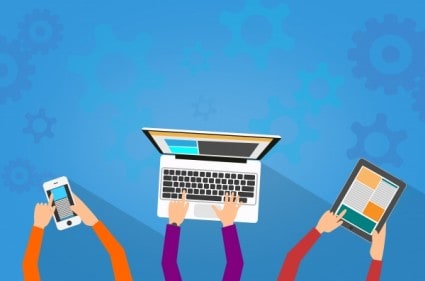 Whether you're a business owner eager to get clients in the door or a recent college graduate seeking a job, an important detail you might be lacking is an online presence – a place online to brand your business or yourself.
For Businesses:
If you own a business, no matter how big or small, you need to promote it online in more ways than one. Only  having a website these days doesn't cut it. Yes, it's an important factor and the first step to branding your company on the web, but an online presence is more than  just  a web page. You need to engage users through social media . Your business needs to have a company profile on Facebook and Twitter.
Why? Simple. The average person spends 2 to 4 hours on social media sites a day. People access social media on their phone, at home, and even at work. By crafting a Social Media Marketing plan  for your business, sites like Facebook and Twitter can potentially allow your business to be seen by thousands of people daily. This exposure is a free way to increase your prospective customers. Visual Net Design  can help you decide the best way for you to take advantage of the social media fever to stay in touch with current customers and meet new ones.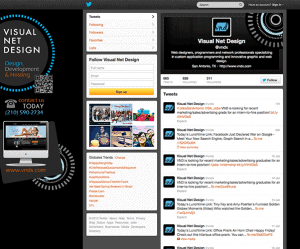 Other social media sites to consider are: YouTube, Google+,   LinkedIn,  Instagram,  Flickr  and more. I encourage you to find the social media sites that fit best with your company. Focus on current social media while maintaining and posting regularly scheduled updates. Don't be afraid – the more exposure for your company, the better!
Blogging for business  is another great way to put your business out there. Not only does it help for SEO purposes, but it offers a personal insight from your employees straight to your clients. An important tip: don't bore them with just  text, be sure to include photos and links back to different areas of your website. This keeps your readers interested and intrigued. Not to mention, blogging is a great way to build loyalty with your clients – the more knowledge you share about your field, the more credible your company is.
For Job Seekers:
A key ingredient to finding a job in the web and technology world, is an online portfolio to display your work, or at the very least a digital resume that can be accessed on the web.
An online portfolio can be something as simple as a website showcasing your work alongside your resume. Free template websites like Wix, for example, allow you to experience designing a web site with all of the resources laid out in front of you. Sites like this are helpful and easy for anyone to use – even if you have no previous knowledge in web design.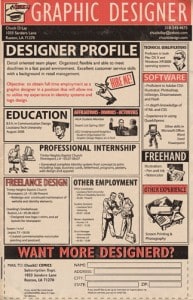 If you're the creative type, switch it up a bit and create a resume  that is fun and inviting for print and the web. Firms aren't interested in the white paper, black ink, bullet-pointed resume anymore. Bring some life to your resume – after all, you've worked so hard to accomplish these skills and achievements, why not display them in a nice way.
Another easy way to connect with people while still promoting yourself is LinkedIn . It's free and easy to sign up. Import your resume, upload a photo, add previous job history and begin connecting with other professionals in your network. These connections can lead to job offers, advice from previous professors, and collegues linking you to the professional world. LinkedIn is a unique social networking site, completely different from Facebook and Twitter, allowing you to showcase yourself and the qualities and skills you have to offer professionally. In my opinion, this is a must for any professional – seeking or already established.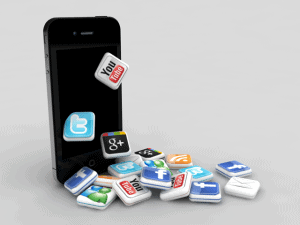 Now-a-days, branding yourself through social media is extremely easy. With the incorporation of smart phones such as the iPhone , the Android  and Windows phone,  it becomes easier for people to connect with others without having to be stationary in front of a computer screen. With the use of a smart phone, you can make updates whenever and wherever with just a few clicks of a button. This get-up-and-go mentality has enabled people to get out into the world and share their experiences with others! It has transformed us from couch potatoes to busy bees, to say the least. These smart phones can access any website possible with the addition of mobile apps, making it that much easier to make updates and promote yourself as a brand while you're on the go.
The exceptional thing about social media is that you can make it your own. You can create your own personal space online and share your work, thoughts, and inspirations with others. Connecting with professionals through the social media sites mentioned above and blogging is a great way to further advance yourself in the direction you are seeking.
In Conclusion:
Remember, when branding for your business or yourself, post original content, share relevant links, include photos and you will be on the right track to building an online presence. Stay connected with the online world and your audience – the integration of a social media presence into your everyday life can get you further than you could ever imagine.
Your success will not be measured by how many followers you have on Twitter, or the number of people who "like" your Facebook page. However, these fun, innovative ways to promote yourself or your business as a brand will keep you on your toes and should be a part of your daily grind.
Images courtesy of Facebook, Twitter, WorkAwesome, MultimediaBomb