Does Facebook own user intellectual property?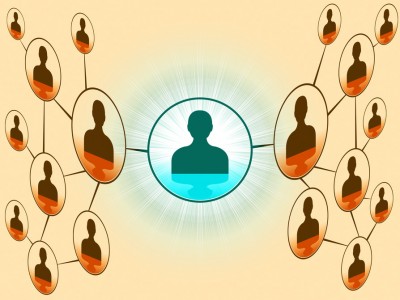 Lately there has been some talk about Facebook owning user intellectual property. This has caused some uneasiness between the social network and its users, to say the least. What's the cause for the commotion? Some users are claiming that, if they add the below text to their post, they will be protected under copyright laws. 
INTELLECTUAL COPYRIGHT NOTICE.

Concerning the new Facebook policy/guidelines….. 

Today, December 17, 2014 in response to the Facebook guidelines and under articles L.111, 112 and 113 of the code of intellectual property, I USER NAME, declare that my rights are attached to all my personal data, drawings, paintings, photos, texts etc… published on my profile. For commercial use of the foregoing my written consent is required at all times. Those reading this text can copy it and paste it on their Facebook wall. This will allow them to place themselves under the protection of copyright. By this release, I tell Facebook that it is strictly forbidden to disclose, copy, distribute, broadcast, or to take any other action against me on the basis of this profile and/or its contents. The actions mentioned above apply equally to employees, students, agents and/or other staff under the direction of Facebook. The contents of my profile includes private information. The violation of my privacy is punished by the law (UCC 1 1-308 – 308 1 – 103 and the Rome Statute).
Facebook is now an open capital entity. All users are invited to post a notice of this kind, or if you prefer, you can copy and paste this version. If you have not published this statement at least once, you tacitly allow the use of your photos and profile information.
Here is the truth about Facebook owning user intellectual property
Facebook does not own any user intellectual property. However, anything that you post to Facebook using the public privacy setting is up for grabs. This means that Facebook can use any of your status updates, videos, or pictures if you don't limit your privacy settings.
The bottom line is, if you're a Facebook user, you own and control the content and the information that you share. If you don't want your posts to be fair game, don't post pictures, videos, or status updates with a public privacy setting. You can read more about Facebook's Privacy Policy or Terms and Conditions the next time you log onto the Social Site and before you start sharing. If you strongly disagree with the Facebook Privacy Policy, here are a few things you can do.
Don't sign up for a Facebook account. If you already have one, cancel your account.  
Bilaterally negotiate a modified policy with Facebook. You can go through Facebook's Governance section and lobby against the social network to change or amend its policy regarding intellectual property.
If you want to argue your rights with Facebook, Facebook welcomes you to do so.
As a leading San Antonio internet marketing firm, Visual Net Design stays up to date with changes to social networks and Google algorithms. We take the time to stay well versed in the latest programming and website development tactics. Don't forget to stay informed by following the Visual Net Design Facebook Page.