How to Create a Mobile App
The app market has been exploding for years, and it's showing no signs of slowing down. Thanks to a technology-loving culture, the future is bright for technology and mobile app development. Let's explore how to create an app.
Define What You Want
So, you want to create an app. The first part of the process is narrowing down if your app will be developed specifically for a market – there is a difference between iOS app development and Android app development.
You can create an app for both markets, but it will take a lot more work, and cost more money.
You need to define your target audience, as well as if the app will be free, or paid. Free apps with in-store purchases are much different than a paid-only app, or a free-only app without in-app purchase.
Record Your Ideas
As you brainstorm possible ideas and have narrowed down what you want, write it all down. If you're better at talking your thoughts out, consider investing in a voice recorder.
The point is, you want a record you can go back to later. Don't trust your brain to remember everything – because it won't.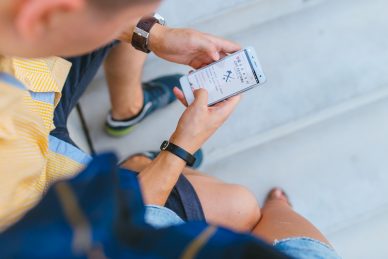 You don't want to forget any important details or ideas. Even if you're unsure how you feel about an idea, write it down anyway. You may keep it later, or discard it. But it's better to be safe than sorry, as the saying goes.
Who Are Your Competitors?
Google Play and the App Store have millions of apps available – paid and free versions. There is a chance someone has already come up with a similar idea to yours.
That's why it's important to know what apps you'll be competing with. What are the current apps missing on the market? How can you make your app better? What makes it different and stand out?
You need to know how to set your app apart from everything else on the market; otherwise, you won't be able to get your head above the water.
Do-It-Yourself or Hire Someone
This may be an easy or hard choice for you, depending on if you have coding experience, or if you're a techie.
Coding is critical to app development, but it isn't the single most important thing. When you're just starting to develop and create your app, coding isn't that necessary yet.
But when it comes down to it, you must decide if you will code the app yourself or hire someone to do it.
If you have little to no coding experience, you can learn. You'll also need to have an understanding of coding languages and web languages. Android and iOS devices use different languages, so make sure you know where you'll be selling the app.
If you do choose to hire someone, make sure you do your research. Their portfolio should align with your app goals, and they should have positive feedback from past customers. This is going to be the biggest expense, so make sure you're completely sold on their skills and experience before hiring them.
These are just the basics of getting started, but now you have a place to begin. Good luck creating your app!
To see how VND can help you with your app development, explore our Mobile App Development services.