CES 2014 Week in Review
CES 2014, otherwise known as the Consumer Electronics Show, was last week and we're counting down our favorite technologies from the trade show! This annual international event was held in Las Vegas and brought thousands of people together from all over the world to witness new product announcements or concepts. Let's get right to it and map out some of our favorite must-see technologies from the weeklong event.
Whirlpool Interactive Cooktop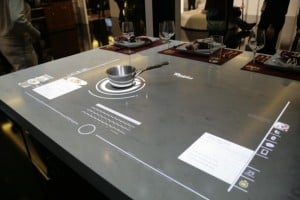 This was by far the coolest concept at CES this year. Whirlpool revealed several innovative concepts at the show, but the interactive cooktop really shined. This modern cooktop of the future allows you to cook and connect at the same time. You can look up recipes, send a quick email, or play your Spotify tunes right from your cooktop digital display. It's functional and fun right at your fingertips, making cooking easier than ever.
This is a great example of the "Internet of Things," meaning technology is becoming a part of our daily lives through simple household products connected wirelessly to the web. We have blogged about this in the past when we introduced FriedrichLink, a mobile app that allows you to control your air conditioner from your smart phone.
Samsung's Bendable TV
Samsung debuted a huge flat screen TV that curves its edges with the push of a button. That's right – a bendable TV. You might be thinking, "What's the point?" The curve allows for everyone in the room to have the same viewing experience, whether you're front and center or off to the side. This product will surprisingly begin to ship out this year. We predict more companies will adopt this concept and follow suit.
Oculus Rift Virtual Reality Gaming Headset
You might have seen the Oculus Rift concept on ABC's hit show, Shark Tank, a while back, but they have come a long way since then. The concept stole the show at CES 2013, but has returned this year after receiving more than $75 million in funding. Just slip on the goggles and you're instantly a character in a virtual reality world. This product will be a success that any gaming fanatic won't be able to resist.
T-Mobile Will Pay Early-Termination Fees
T-Mobile's CEO, John Legere, announced that they will pay early-termination fees for customers who switch over to their service. This isn't a new technology, but this is certainly a new concept that no other phone carrier has adopted. T-Mobile says they could offer up to $650 per line to switch over to their service with their "Uncarrier" strategy. We foresee more of this "bribing" tactic in the future to convert new customers. Well done, T-Mobile!
Several innovative concepts and products were revealed at the show this year, but these were the must-see technologies from CES 2014 that caught our eye. Technology is constantly evolving and we can't wait to see what's in store in the years to come!